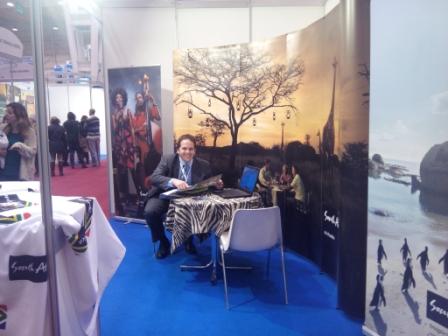 On 5 and 6 April 2014, the South African Embassy in Portugal participated in the MUNDO ABREU TRAVEL FAIR, one of the most important travel fairs in Portugal. Organized by Abreu, the biggest Portuguese tour operator and owner of the largest network of travel agencies in the country attracted vast numbers of the public to the annually held travel fair.
The Embassy shared a stand with Mundial Tours, a South African-based and Portuguese-owned travel agency that represents Abreu in South Africa.
The fair was an excellent opportunity for the Embassy to market and promote South Africa as a major travel destination and was also used to educate the public on South Africa as tourism destination of choice.
The promise of "discounts of up to 60%" was once again the main attractions for members of the public to visit the fair with more than 120 000 people visiting the fair. South Africa had 3 main packages in Abreu's big trips brochure.
 For More information please consult: www.mundoabreu.pt